While a lot is being said about startups providing ride-hailing, freight management, delivery and logistics services, not much is being said about transport technology platforms catering to the underserved sectors of urban mobility in Africa.
Few companies have figured out how to aggregate the majority of these underserved sectors like the vehicle rental and vehicle charter services for land, water and air in one tech-enabled platform.
Incidentally, a revolutionary platform, Bossbus has broken the mould and is using the power of technology to transform the urban mobility industry by delivering these integrated charter services, thereby offering more reliable, safe, affordable and convenient commuting experiences to many customers.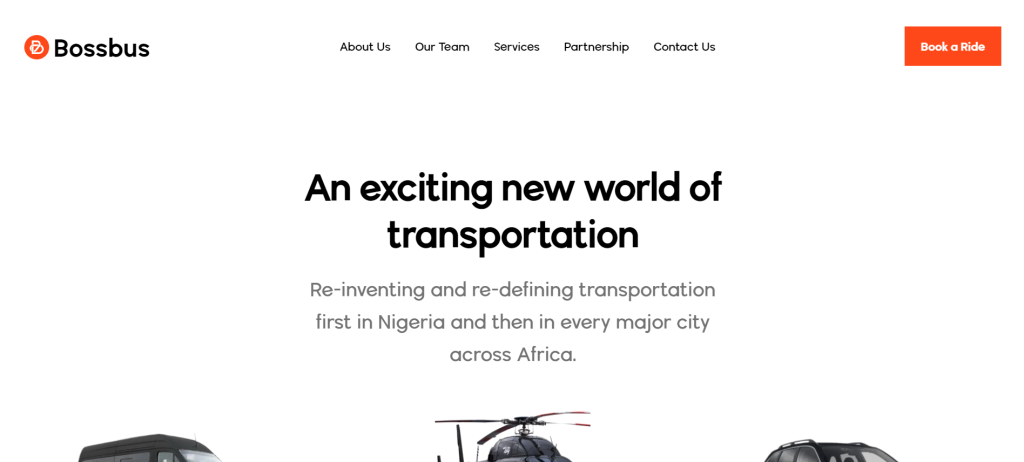 How Bossbus is disrupting urban mobility.
Starting with Nigeria, Bossbus is pledging access to multiple means of transport at a cheaper rate through its custom tech services.
The transport tech company engages, manages and helps owners, vendors and drivers of luxurious saloon cars and buses, SUVs, boats, helicopters and private jets earn and retain customers with its innovative new app. Bossbus charter services ensure riders have access to fixed transportation fares, affordable rates, convenient scheduling and ride tracking system.
The platform's mission is to put an end to the growing pains of commuting for many riders; they can book trips based on price, location, length of days and many more bespoke options on the Bossbus app using a Smartphone or laptop.
Speaking on how customers use the platform with pressmen at a Conference in Lagos recently, Bossbus Founder and CEO; Oluwatobi Johnson Fakayode says,
"While we are still developing our ride pooling app, our charter services allow riders who usually take four trips in a day and spend up to N20,000, to book a saloon car and a chauffeur available throughout the day at a cheaper rate. You can also have one driver for multiple trips. "
He added, "The difference is there is no last-minute cancellation of rides by drivers, you can book rides weeks or days before the take-off date and take vehicles for inter/ intrastate travels. Bossbus is a very user-friendly platform so you won't have any trouble using it. We also have an extensive GPS and security system that helps us monitor trips and verify all our drivers and vendors before and after take-off."
Investing in the future.
Bossbus has built an unconventional transport app from scratch through the help of its dedicated developers and tech experts who began working on the platform in 2019. Owners, vendors and drivers of underserved services will be able to register on the platform, monitor their earnings and serve riders in any part of Africa utilising the app.
The team also confirmed that they are working on integrating e-ticketing solutions through USSD payments without the use of smartphones.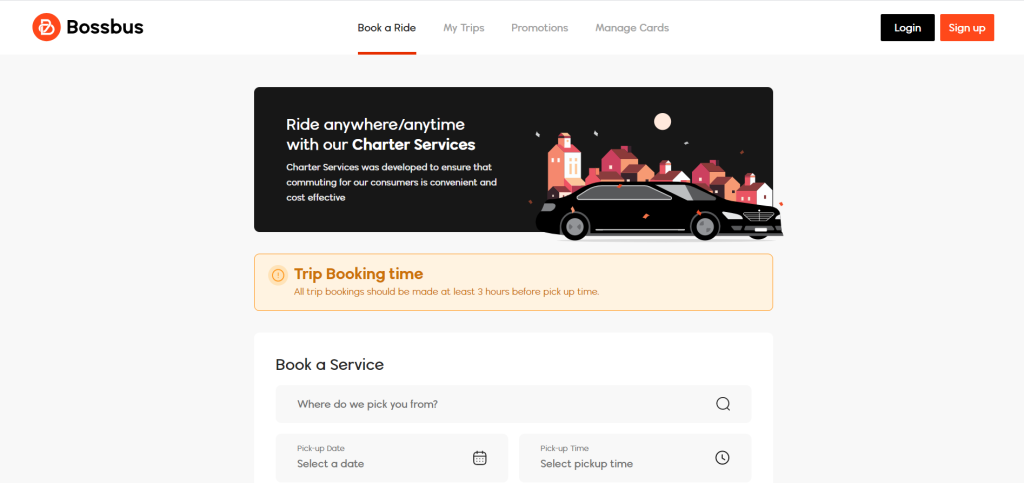 The Bossbus app is currently available in major Nigerian cities like Lagos, Ibadan, Port Harcourt, Abuja, Enugu, Owerri, and many more.
While discussing investments from individuals, Venture Capital firms and other interested organisations, Oluwatobi Johnson Fakayode says,
"We are finally ready to have partners and investors work with us to provide comfortable, luxury, and seamless transport services to millions of customers around the country."
We are also seeking the intervention of the government to create a better enabling environment for startups like ours. We are already in talks with them and we look forward to more collaborations in future."
Last month, Nollywood Actor, Jim Iyke partnered with Bossbus on his debut movie, Bad Comments. The transport tech company has been supporting the actor's movie premieres in major cities like Lagos and Abuja, stunning fans and guests with premium  SUVs, Rolls Royce and Hummer Limousine. 
Bossbus is a leading provider of transport technology solutions in Africa and continues to exceed expectations where many tech-enabled mobility companies give up and drive their businesses to other industries.
The tech firm has been working with top business, travel, lifestyle, entertainment and transport companies in Africa to break free from the regular infrastructure and stand out with exciting and innovative tech products and services. Download the app via the App Store, Playstore or visit app.bossbusworld.com to use the Bossbus platform.