In commemoration of the World Art Day, ARTSPLIT, pioneering alternative investment company is empowering the next generation of artists and giving back to its community by donating art supplies and other branded items to creative art students at the University of Lagos and the University of Nigeria, Nsukka.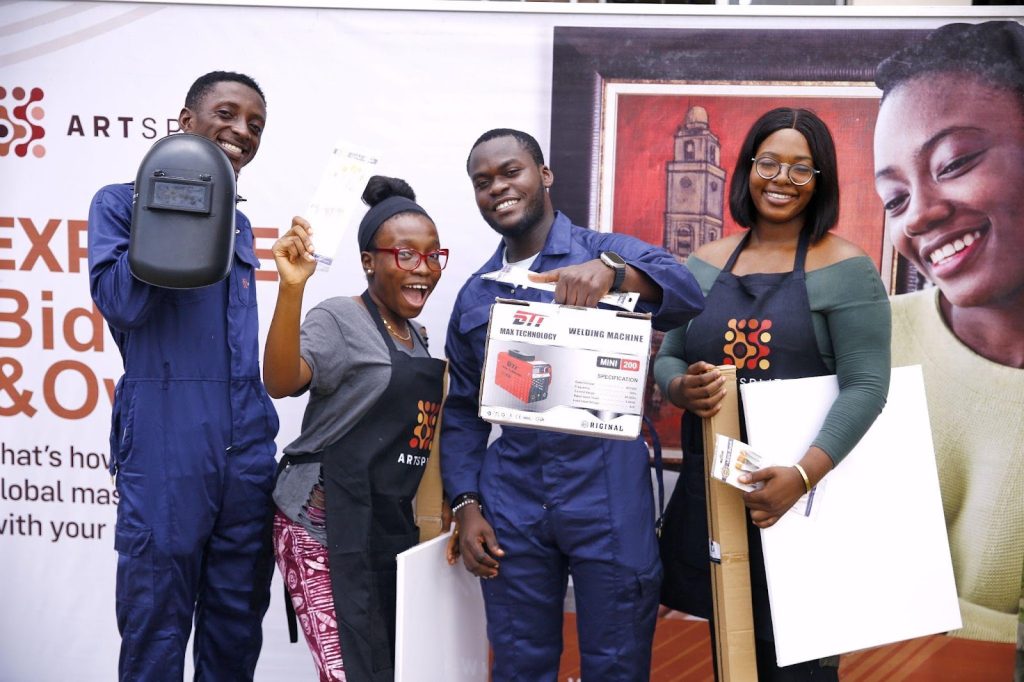 This donation comes at a time where the brand hopes to foster creativity and innovation among students. Speaking at the event, Muyiwa Olowoporoku, Head of Partnerships & Alliances at ARTSPLIT Limited, stated, "At ARTSPLIT, we believe in the power of art to transform lives. We are proud to support the next generation of artists and foster creativity in Nigeria. Seeing art's excitement and impact on these talented students is inspiring for us. As we celebrate our one-year anniversary, we are committed to furthering the discourse on nurturing creativity, innovation, and cultural diversity among the African people."
ARTSPLIT hopes to advance the conversation on nurturing cultural diversity among Africans in keeping with its mission to democratize access to alternative investment assets such as artworks and music. ARTSPLIT is holding a one year anniversary auction featuring the works of two exceptional Nigerian artists, Okpu Eze and Reuben Ugbine. Users can own a share of these highly sought-after pieces on the ARTSPLIT app.
Each year, on the 15th of April, UNESCO's World Art Day is celebrated across the world to help reinforce the links between artistic creations and society while encouraging greater awareness of the diversity of artistic expressions and highlighting the contribution of artists to sustainable development.
Join ARTSPLIT in celebrating its anniversary and supporting the art community by participating in its ongoing art auction. Click HERE to get started.
About ARTSPLIT:
ARTSPLIT is an alternative investment company that democratises access to alternative investment assets, such as artworks and music, for everyone. Leveraging technology and co-ownership, ARTSPLIT allows users to co-own rare and valuable African artworks and music catalogues, enhancing the investment status of these assets. In return, these users can sell these fractions (Splits) and earn from it.
Founded in April 2022, ARTSPLIT is committed to empowering investors and supporting artists while promoting creativity and cultural diversity in Africa and beyond.
To find out more about ARTSPLIT, please get in touch with info@artsplit.com or visit www.artsplit.com. You can also follow @artsplitofficial on Twitter, Instagram, and Facebook. ARTSPLIT can be downloaded on the App Store and Google Play Store.